Today was the first full day back to work since last Monday. The temps here are still hovering around 90 degrees (32.2 C). This is about 30 degrees warmer than April is supposed to be. The building had no a/c on so it was stuffy and hard to breathe all day. I could open the office window but by the time afternoon rolled around, that wasn't much of a help. Another day of summer-like weather and then the rains will come and wash it all away. Good thing, too. My car is covered with pollen from the trees and I can feel it in my nose.
A while ago, I bought this pattern at my lys. It's called Queen Anne's lace. I bought some laceweight yarn to use for it but the yarn I bought is brown. I'm thinking I don't want to knit this in brown so I think I am going to be ambitious and spin enough yarn to knit it. I have 2 pounds of white/ecru merino roving that would look lovely. I've started spinning the yarn and I think it'll take a long time to finish enough to make this shawl. But I've got time. No hurries, be happy. (sorry, Mr. McFerrin)
So, what are you doing to protect yourself from the swine flu? One of my very favorite web comics is
xkcd
. He is funny despite being a former rocket scientist (or maybe because of it). This was the comic for today. The news here is full of "THE SWINE FLU!!!" pre-epide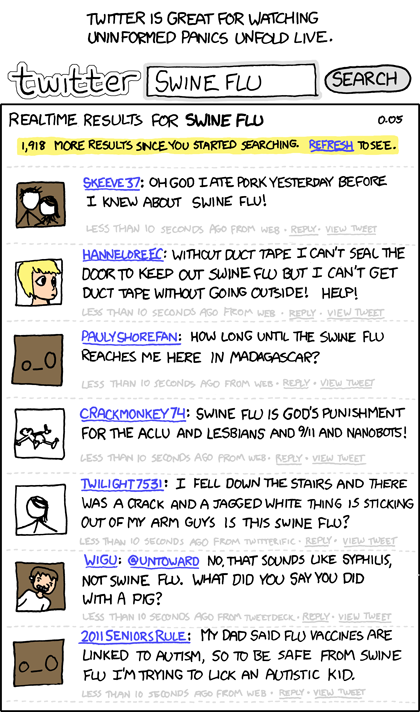 mic. Enjoy. It gave me a good laugh today.
So, have a good Monday evening. Watch out for flu bugs!