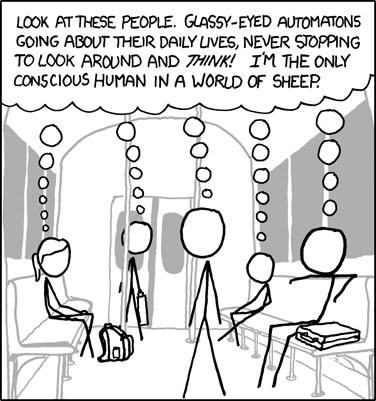 This comic is entitled Sheeple. It's from xkcd, one of my all time favorites. It was good for a Wednesday Morning Smile.
I have always loved the comics page of the newspaper the best. I used to force myself to read the rest of the paper just to reward myself with the comics. Then I went to a seminar and the speaker said something along the lines of how he likes to start his day with a smile and so he reads the comics first. Whoa. What a concept! Read the comics first! I often didn't have time in the morning to read the rest of the paper but I got my smiles first thing.
Eventually, we realized we were not reading anything in the newspaper but the comics and it was a waste of paper. So, for the first time in all my life, I don't have a morning paper delivered to my house. It felt really weird at first but now I've gotten used to it and I read my favorite comics online so I still get my smiles. I feel bad about the paper but not bad enough to reup my subscription. I am rereading a favorite book as I eat my breakfast and so far, it's been good.
I am missing out on some of the local news (I don't have a television, remember?) but since most of it is about murders and other violent crimes, I don't feel like I'm missing much. I listen to the radio and get the national/international news (I did hear about Kim Jong Il's cancer) but I miss the sensationalized local stuff. I don't really miss it, I just don't hear about it. Once again, it's been good.
We are coming to the end of some of the most perfect days I can remember weather-wise. If summer were always like this, I'd vote for it as my favorite season (even if I don't need a heavy sweater or wool socks). It's been clear and the air has been soft and warm but not really hot. Amazing. It makes you just want to smile and sigh at the beauty as you walk down the street.
Have a beautiful Wednesday.